Who are We and our Mission !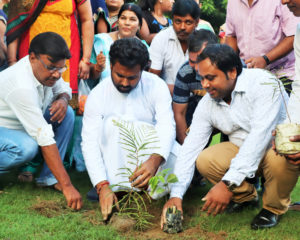 The world has seen its trees disappear alarmingly fast due   to industrialization and urbanization, which have drastically lowered the green cover. This has brought many environmental problems to the world like increased carbon footprint, rapid climate change, degradation in the quality of soil and adverse effect on bio-diversity. 'Name Tree' is a plantation initiative intended to inspire people of every age group to plant at least 1 tree with their Name (Naam) so that they can take care of the tree as their own. We at 'Name Tree' don't focus on just planting a sapling but also on the survival of every sapling that is planted. Our team of environmentalists and scientists impart proper knowledge about the tree types that can grow well in a certain soil and environmental condition so that plant survival and sustenance rates can be increased.
'Name Tree' campaign with 'at least 1 tree with one's name, by every individual' was inspired by Shri Naam Deo, a socialist, a motivational speaker and an entrepreneur whose unceasing love for nature is evident through his campaign that he ran in various cities of India last year. For this campaign, more than 10,000 saplings were planted on his birthday and thousands of 'Sadguru Sadafal Deo Vihangam Yoga Sansthan' (SSDVYS) volunteers took part.
'Name Tree' initiative is sponsored by the Sukrit group (Sukrit Ayurveda, Sukrit Wellness, Sukrit Farming, Sukrit Health, Sukrit Life, Bahudha Foundation and Sadafal Education).
'Name Tree' is supported by SSDVYS- which holds Special Consultative Status with United Nations Economic and Social Council and is affiliated with UN-Habitat.
We take this opportunity to invite you to join Name Tree's unique tree plantation initiative and thus contribute to a cleaner and greener world. Please plant a tree and nurture it for a better today and a beautiful tomorrow. Trees can be our best friends.